Attn: CATIAHotline PLM'er,
On Those Pesky Toolbars that Disappear.
Suppose that one day you want to project a 3D line onto a sketch. You first look for the Project Icon and find that it isn't there. You say to yourself, "Hmm… It must be turned off." You right click over the toolbar area and discover that it is, in fact, checked. You assume, based on prior experience, that it must be hidden at the bottom. You then drag every toolbar out of its 'Parking' place and still you are at a loss as to where it is. Are you losing your mind? Have you forgotten how to correctly view the toolbars in the first place? And most importantly, what do you do?
What has happened is a bug in CATIA where when you 'X' out a toolbar it just goes away, never to return again. There is no need to adjust your medication (at least not based solely on this phenomenon). You can solve this issue in several ways, with the first being to remove all of your CATSettings. This can be a pain, however, as it will remove ALL of your configured options. (See: How to remove CATSettings) If you backed up your CATSettings after making your needed customizations, you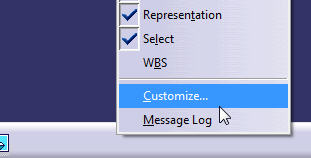 can simply restore them. (See: How to restore backed up Settings). There is also a third way, which does not involve directly manipulating your stored settings. While simple to implement, this option can lead to other issues. (Although not as drastic as removing all of your settings.) Right click over the toolbar anywhere and select 'Customize'. You can also select 'Tools -> Customize' and it will take you to the same place. You will be presented with the Customize Window. Here you can do a lot of different customizations, one of the most popular being to set what pops up in the Start Menu, making it quicker for you to jump into the Toolbench you wish to use. This is also the menu you would use to create custom commands. There are a few others but the one that we are going to concentrate on is the Toolbars Panel. Here is where we can reset all our toolbars in just two easy steps. Select Restore all contents, and then select OK. This will return all Toolbars to on, bringing back from the unknown the toolbars that have been displaced. The next step in our little quest is to
select Restore position and then select OK. This will return all of the Toolbars to the CATIA Default position. Now be aware that this is the 'CATIA' Default, your Default. This means that if you have developed a toolbar in an 'Admin' Environment you will lose that toolbar. This is the only draw back of this fix, and it can be quite annoying as it requires repositioning everything by hand. Now in a perfect world this wouldn't happen, but as we live in a CATIA World we are sometimes stuck with work arounds such as this. This is just one more reason why it is critical to back up your CATSettings. If you spend hours worth of your time customizing CATIA to look and feel a way that you want, please back up your settings.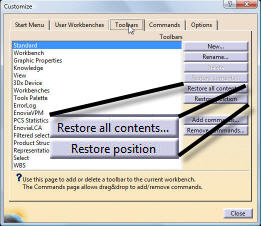 It is an easy thing to do, and you can even go so far as to start each day new… That and a Good cup of Coffee will make everything right in the world… (until, of course, the next bug hits).
Jon