Attn: CATIAHotline PLM'er,
What a Week… Sorry I missed last week. Few things happened one was in my control and the other wasn't. The one that wasn't in my control was one that will affect most of you who are a certain BP's Customer. My old Co-Worker/Boss who is a great friend was laid off.
Those of you who know Jeff know him to be The Best CATIA Admin there is. He taught me all I know and for that I'm extremely Grateful. With out his guidance I would have never become what I am today.
So with that I will end this weekly email and get ready for next week mailer. If you would like to contact Jeff his email is catiarx@gmail.com.
Oh the Tip. The CATSetting 'Preselect in geometry view' is found under General -> Display -> Navigation -> Selection. It is a great tool and if it is unselected then you do not have the ability to 'Preselect' any geometry (See image below). My recommendation on this one is leave it checked. And if it isn't checked then make it so.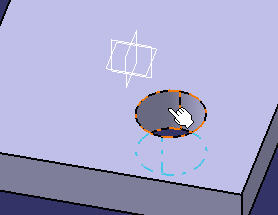 Notice that the Hole 'Highlights' as the mouse passes over it.
Until Next week.
Jon