Attn: CATIAHotline PLM'er,
This past week I have been teaching to our Engineer's here how to use the FT&A Tools in CATIA V5. Honestly the only thing I knew about it when I first started to develop the materials was how to Spell it and then I would confuse it with FD&T (V4 Terminology). Well I'm happy to say that I now know more about FT&A that I ever really wanted to. One of the cool things that I discovered is part of FT&A but available with most Config's.
The 3D-Annotation-Query Switch On/Switch Off – this little puppy when selected allows the Engineer to view what Geometry the Annotation is tied to. For example if you had a plate that had multiple holes in it but you didn't want to create holes to save on space. So instead of creating many holes you decided to represent your holes with points. Problem is that most points look the same.
Well here is where a problem arises. You can either select different point types for the different Holes that you want to create or you can use the Text/Flagnote with Leader to define the different Holes. How do I do this you may ask yourself. Well here is how you would do that.
After placing the points in the proper location you will need to locate the Annotation Toolbar. By default the 3D-Annotation-Query Switch
On/Off is not selected. I recommend Selecting it. Once selected it will remain that way until you unselect it.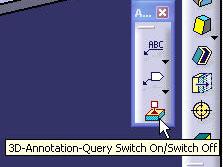 Secondly you will need to select the Text/Flagnote with Leader. (See Image 2) You will be prompted to 'Select a Geometric Element or an Annotation'. Select the Geometry that you want to tie your Text/Flagnote to. For this example I am going to use Points but you can use Surfaces or Faces or what ever you desire.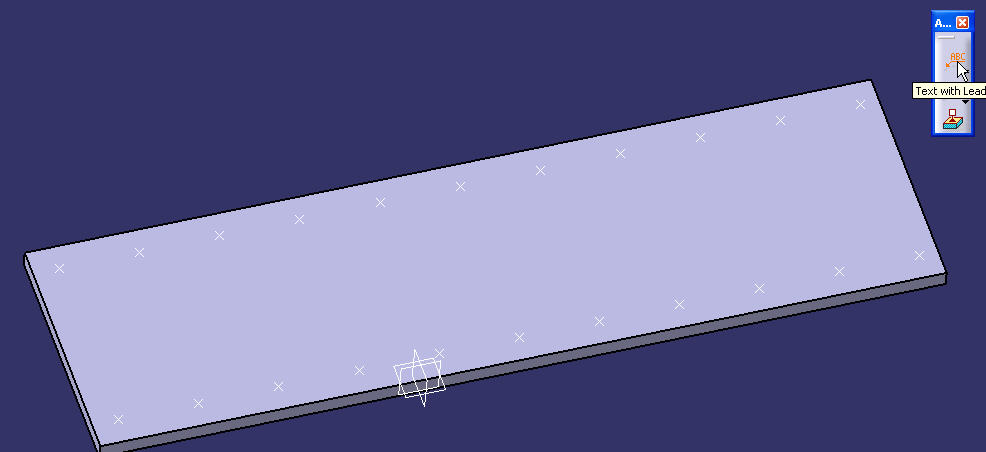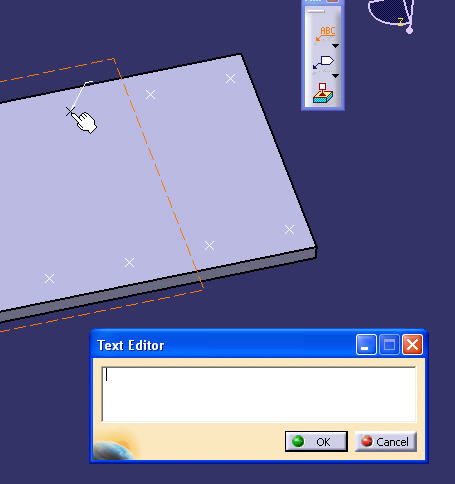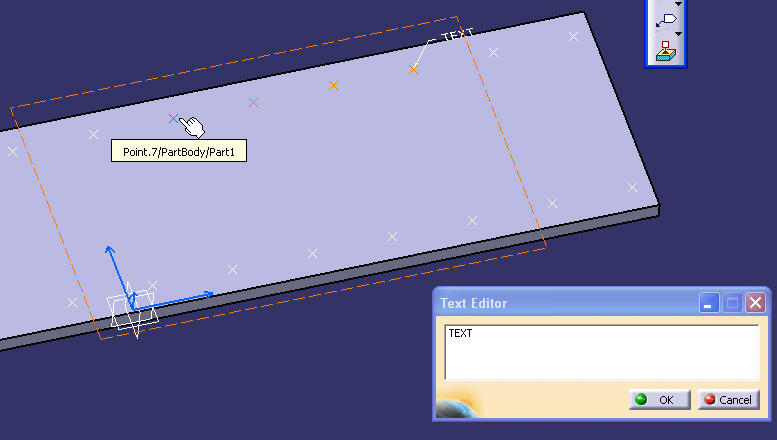 The Text Editor Dialog Box opens up (See Image 3) . The next step is up to you. You can either type in the appropriate text 'or' you can continue to select more Points (See Image 4)
If you chose to Enter the Text first then must select the Points you wish to add to your 3D-Annotation-Query. Or if you chose to select the Points before Entering the Text then do so now.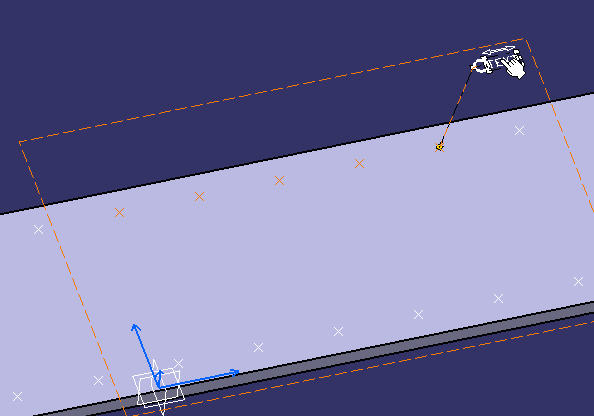 Select OK and take a look at your handy work. To do this select the Text with Leader and the Points should Highlight. (See Image 5)
Now wasn't that just neat!!! Well have a great week and thanks reading this week's Mailer.
Jon