Attn: CATIAHotline PLM'er,
Happy Belated Thanksgiving to the Folks in the US. Today we are going to talk about Searching. It is a very powerful tool in CATIA V5. There are a couple of ways to do the search.
The first that we are going to cover is to do it from the Command Prompt. You know that little input area located in the bottom right corner of the CATIA Window. The second is to select Edit -> Search , a shortcut to that is using the Control-F (Also a Windows Hot Key) combo. You can also 'Save' Searches in your Favorites and go back to them when you want to.
From the Command Prompt:
To Multi-Select from the Command prompt you just type in what you are searching for, but in a certain way. For example in the image below I want to find all of the pads in the model. There are only 2 Pad.1 and Pad.2. In the Command Prompt I type in .*pad* and select <Enter>. Notice in the image below that they are now selected.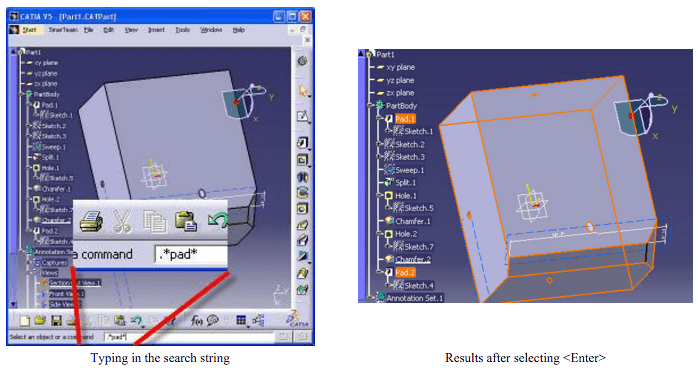 Typing in the search string
Results after selecting <Enter>
Here are some other examples of MultiSelects:
.*plane* = All Planes
.*lin* = All Lines
.*point* = All Points
.*bod* = All Bodies
.*cur* = All Curves
.*ann* = All Annotation
and on and on and on.
From Edit -> Search and Control-F:
To use this search you get help from CATIA. This way you don't have to remember what is the correct nomenclature for FT&A (Annotation). To start you either select Edit -> Search from the Menu's or you can use the Windows Hot Key of Control-F (Selecting the Control Key and the 'F' Key at the same time).
Here you can choose what you want to search for. The popup panel allows the user to narrow down the search.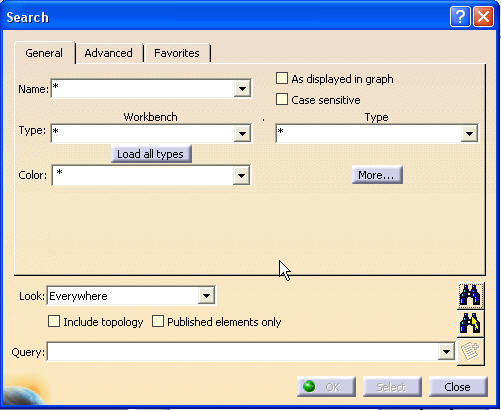 For example what if I wanted to select all the Annotation well I know that Annotation is in the Functional Tolerancing and Annotation Workbench so I can select that Workbench. This narrows down my selection to only things that are in the FT&A Workbench. As you see in the Image below you won't find any Electrical selections just Annotation and Dimensions and there supporting elements.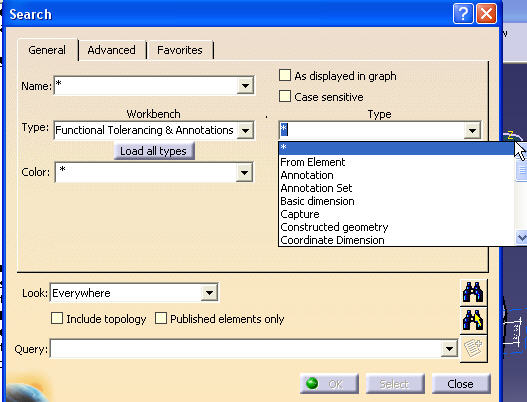 Once I have chosen what I want to search for I select the binoculars. This will Select all the elements I have defined.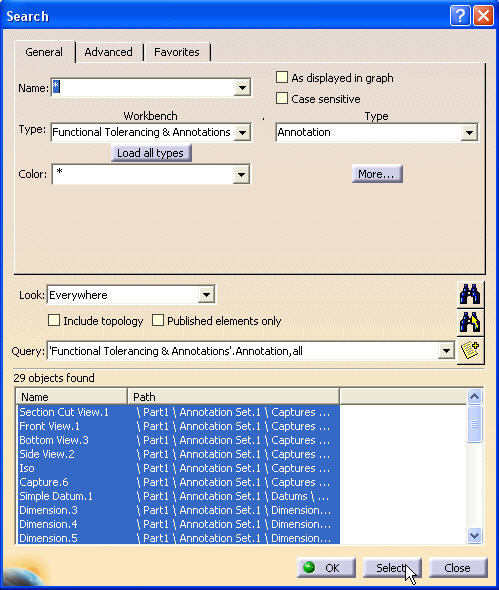 I then pick the 'select' button and all the elements are selected.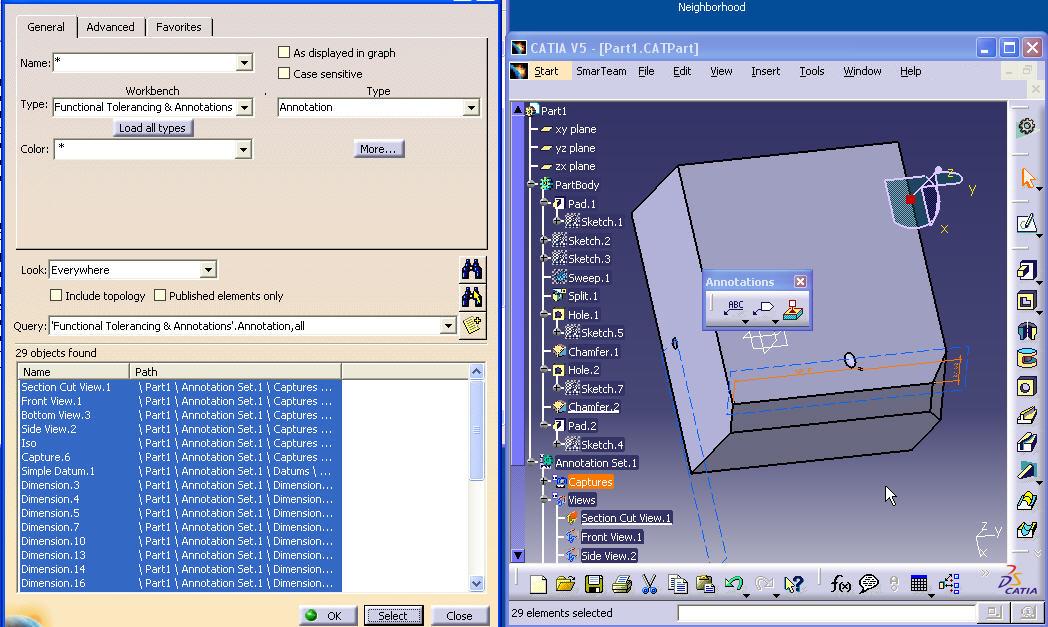 Saving a Search into my Favorites:
Once I have defined a Search I can store it in my favorites. This is done by selecting the 'Add to Favorites…' button

. When that is done another window pops up and allows you to name it. I called mine ANN. I select OK.

Now when I want to perform that Query I just type in f:ANN in the command prompt and my search is done.

These are also Stored in your CATSettings as SearchFavoriteQueries.CATSettings.
Who would of ever thought Searching for things would be so much fun.
Happy Searching.
Jon
PS – The latest to leave my old Company… Mike K. For those of you who don't know Mike he was the youngest of the group and was based out of Seattle. Though he rarely came into the office, because of his traveling for the company, he was still part of it. He turned out the lights….