Attn: CATIAHotline PLM'er,
How many times do we get to say I'm so glad I'm wrong. Well it happened to me a few weeks ago. As a matter of fact What I'm going to be talking about today is one of the main reasons I started this mailer/website.
A few weeks ago I sent out the mailer that talked about the 3rd Party Products that were available to View CATIA Files. (Click Here for that mailer) Well the one that I was wrong about was the Symmetry viewer. It seems that you can view the majority of the FT&A. Here is how it breaks down.
FT&A that can be Seen;
Text, Text with Leaders, Parallel Text, Flagnote, Flagnote with Leader, Datum, Roughness, Datum Target, Basic Dimensions, Cumulative Dimensions, Stacked Dimensions, Coordinate Dimensions, Diameters.
FT&A that shows the idea of what is trying to be relayed
Geometrical Tolerance.
FT&A that do not come across at all;
Curvilinear.
And what would this be with out pictures. Well here they are.
Click on any Picture to open it in a different window to view it better
The first shows the different Annotations that are available.

What it looks like inside of CATIA What it looks like inside of Smarteam With the Viewer
The second shows the different Dimensions that can be viewed. Notice that the Curvilinear does not show up.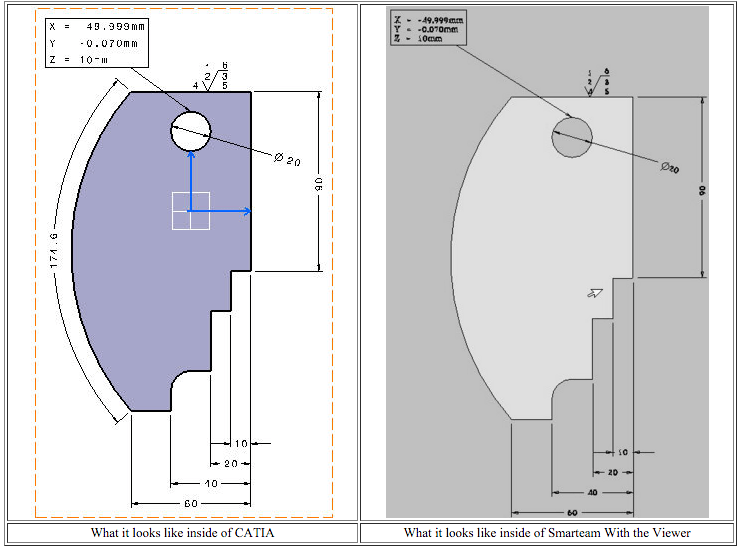 What it looks like inside of CATIA What it looks like inside of Smarteam With the Viewer
The last one shows the way that Geometrical Tolerance looks.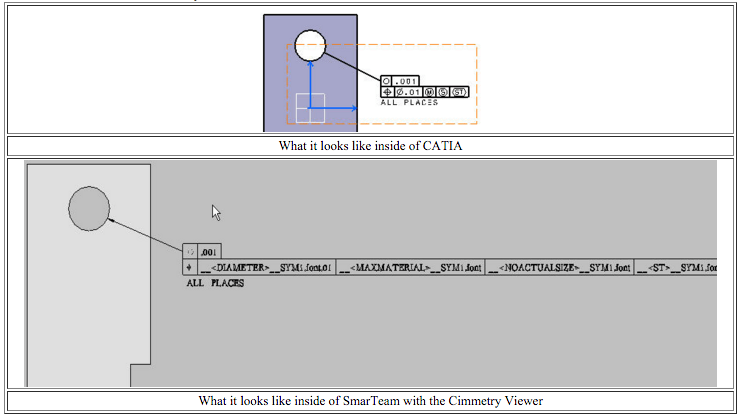 What it looks like inside of CATIA
What it looks like inside of SmarTeam with the Cimmetry Viewer
So as you see for the most part everything looks good. So if you don't use Geometrical Tolerance and Curvilinear Dimensions then you are good to go.
So the Question of the hour is how is this done. I'm a gonna try to show you.
Well first you go inside of SmarTeam and select Tools -> Applications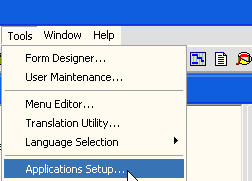 Secondly select the appropriate File type. Remember not only the CATParts but the CATProducts as well.
Next you will want to select teh Embedded Viewer and then Modify.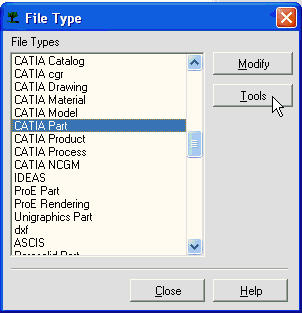 Change it in the Viewer file extension from .CATPart.cgr To just .CATPart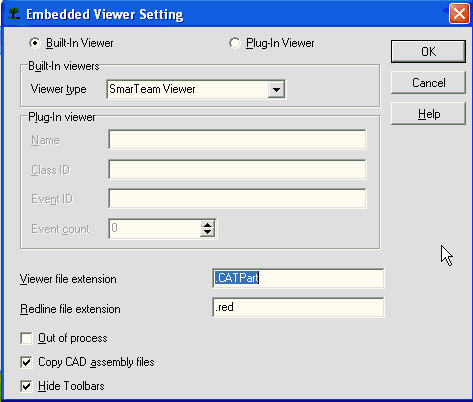 Select OK and the get on with your viewin!!!
Well that is it. Have a Great Week and Happy CATIAing.
Jon