Attn: CATIAHotline PLM'er,
Last mailer was about Service Packs and I promised that I would do the Silent Install for CATIA. But first I will talk about why one would want to do a silent install vs. just doing selecting the Setup.exe. The silent (batch) install of CATIA allows users to automate the installation of CATIA. This decreases the repetitive tasks of installing CATIA on multiple machines.
By following these simple steps you to can install more than one machine at the same time quickly. All while enjoying your coffee with out any interuptions.
Step 1. Create a folder that can be accessed from a network location.
I will use the following path \\CH\Software\CATIA
Step 2. Copy both CD's into the same folder in the network accessible folder.
Step 3. Open your favorite Text Editor. (Notepad, Wordpad, gVim, etc..)
Step 4. Decide which variables you want to use. Click here for the list of Variables
Step 5. Locate the following files: StartB.exe and VBA.msi.
Step 6. Create the syntax for the your installation and place it in the Text file.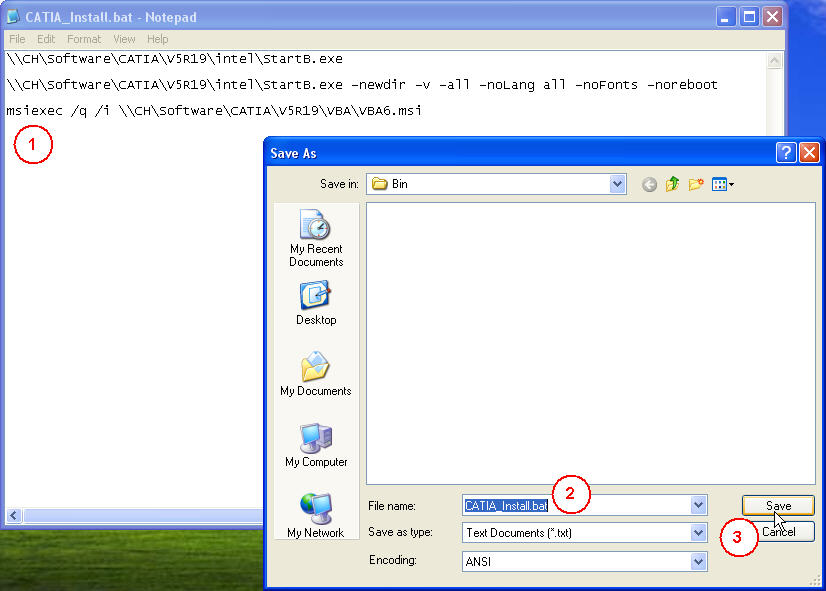 Example File (Rename to .bat)
\\CH\Software\CATIA\V5R19\intel\StartB.exe
\\CH\Software\CATIA\V5R19\intel\StartB.exe -newdir -v -all -noLang all -noFonts -noreboot
msiexec /q /i \\CH\Software\CATIA\V5R19\VBA\VBA6.msi
The first StartB will install any Prerequisites
The second StartB will install CATIA
The msiexec will install VBA for CATIA which isn't installed during the silent install
Step 7. After saving the file in a location that is accessible from the network.
Step 8. On the Client Machine open up a command prompt.
Step 9. Run the install file.
Step 10. Get your coffee and enjoy your hard work.
That is it. It is fairly easy and you can impress your co-workers with your new found knowledge.
Jon