Attn: CATIAHotline PLM'er,
We all know that CATIA uses IBM's LUM (License Use Manager) for it's licensing tool. And like we discussed last week you don't have to install LUM on the client machines.
But did you know that you don't need all the text that LUM Creates. You only need 3 lines of text for CATIA to find the server and run. Here is the secret.
First and foremost you need to have a License Server. If you don't have a LUM Server then this email can be ignored and you are just going to have to wait until next week.
Then you need to make sure that the following folder created.
C:\Documents and Settings\All Users\Application Data\IBM\LUM
Once that is done using your favorite Text Editor create the i4ls.ini file in the created LUM Folder.
The reason that IBM instructs you to use the i4cfg.exe to create the i4ls.ini file is that the syntax of the i4ls.ini file (UpperCase and lowercase) must be followed exactly. So if you care to venture down this avenue then make sure you follow the rules.
The following lines of text are all that are needed for CATIA to look to the server
[iFOR/LS NCS-Client]
NumDirectBindServers=1
DirectBindServer1=ip:###.###.###.###[1515]
The NumDirectBindServers value is how many servers you have defined.
The DirectBindServer(s) ip is the ip address of the LUM Server
For as many LUM Servers you have defined with NumDirectBindServers you must also have the same amount called out using DirectBindServer#
Save the file and copy it to all the machines you use CATIA on.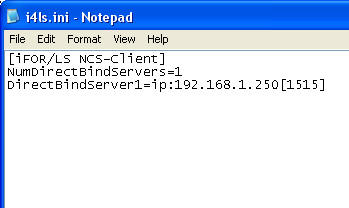 That is it. I do hope this helps with your LUM stuff and have a great week.
Jon